It is the beginning of August, the sun feels like it's shining brighter than it ever has before, and all I can think about is how good an ice cold glass of lemonade would taste right now. That glass of lemonade would taste even more refreshing if I were a truck driver who worked outside in this heat all day. But it's that time of the year where the lemonade has to wait and all owner/operators of trucks need to file those Form 2290's. Thankfully, e-Tax exists to make filing quick and easy. This results fewer fines and penalties. Fewer fines and penalties mean you can buy more lemonade, among other things…
Breaking Down E-Tax
E-Tax simply means filing tax returns electronically, or on the Internet. Services that allow you to file these taxes online are e-Tax providers and they must all be approved by the IRS. This method of filing your taxes has several benefits.
Quick
I've said this in the past, and I'll say it again: Time is Money. Especially in trucking. If I was given the option to drive to an IRS office an hour or more out of town, wait in a line, have the possibility of NOT getting what I needed, or getting turned down and told to come back another day – I would avoid that scenario in a heartbeat. Instead, I would file my taxes online from the convenience of my home at any time I wanted. That sounds much better to me. Not to mention it is much faster than waiting weeks or months for my Schedule 1 to come in the mail. E-Taxes through 2290Tax.com enable you to get your Schedule 1 usually the same business day.
Easy
Which of these two images look easier to understand? The first or the second?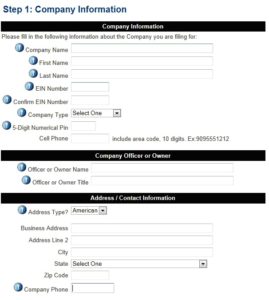 The first picture is the beginning of the IRS written instructions for Form 2290, the second picture is of our website. When making your decision, remember that there are 11 pages of IRS instructions for the Form 2290 and all 11 pages are written in whatever language the IRS speaks….Gibberish I think it is….
The e-Tax form is similar to your first grade homework. Where it says first name, you type your first name. Where it says last name, you type your last name.
It's your choice. 11 Pages of IRS gibberish, or easy-peasy-lemon-squeezey 1st grade style homework.
How to Get Out of Fines and Penalties
Ideally, e-Tax prevents any IRS fines and/or penalties from even happening by helping you to file on time. But it's not foolproof,  fines and penalties can slip through the cracks and  fall onto your lap if you don't file on time. To read more about getting fines and penalties waived, check out an old article we posted: How to get 2290 Tax Penalties Waived.
E-Tax: Just Relax
Don't worry if you don't like computers, or worry about making mistakes. We're here to help you every step of the way. Our all American support staff is just waiting for your call. Give us a ring us today at 888-802-4299.