License plates used in the 1960's on California vehicles are making a come back. The California License Plate Program, which was introduced in 2012, offered the opportunity to purchase plates from the 1950s, 1960s, and 1970s.
Each required of a minimum of 7,500 paying customers before January 1, 2015 to begin manufacturing these plates. Only the 1960's plates made the cut and as of June 17, 2015 the DMV has been accepting orders for these specialty plates. For those who purchased 1950s and 1970s plates, were refunded in January and February 2015 for their orders.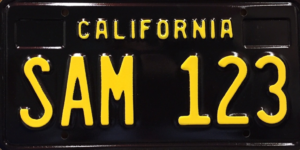 New California License Plate
The yellow text compliments the black backdrop making for a great add on for your ride. The design makes your vehicle's plates pop. I really enjoy seeing them around while I'm on the road. The 1960s Legacy plates come with $50 fee and can be ordered online, by mail, or ordering them directly at a DMV office near you. The 1960s plates can be ordered for any automobile, commercial vehicle, motorcycle, or trailer. Visit Personalized Plates Internet Reservation & Ordering to place your order.
What do you think about the new plates?
We welcome you to join the conversation. Visit us on Facebook or Twitter!
Written by Yesenia Carrillo